Registered NDIS Provider in Melbourne
We help you live an independent, supported life.
Caring Hearts: Your Trusted Registered 24x7 NDIS Provider in Melbourne?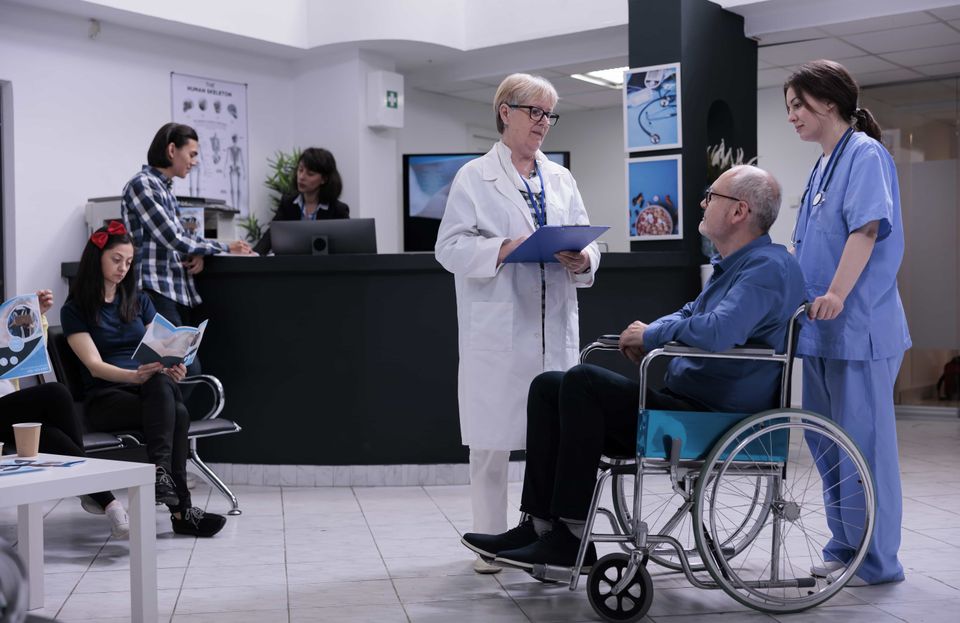 Welcome to Caring Hearts, your reliable
registered NDIS provider in Melbourne
. We pride ourselves on having a team of highly qualified disability support workers who are trained to provide top-notch support for individuals with physical and intellectual disabilities.
As an authorized 24x7 NDIS provider in Melbourne, we have extensive experience tailoring our services to meet the unique needs of our clients. We understand that each person is unique and therefore requires personalised care, and that's why we are committed to delivering compassionate care that is designed to meet your specific requirements.
Caring Hearts has been a leading name, serving as an approved NDIS provider in Melbourne

for many years

. We provide personalised disability support services to eligible NDIS participants and their families. We have a team of trained care and support staff with many years of experience in this field.
Our services are second to none. We don't treat our participants as clients; we look at them as family members, and we care for them like our own. Our caregivers are highly experienced and know how to handle any situation; they work hard to convince the participants that they do not have a disability and are physically fit enough.
Why Choose Caring Hearts as your NDIS provider?
We have held the number one position as a certified NDIS provider in Melbourne for many years. We offer SIL services, respite care, and more. We have services in suburban Melbourne.
We have served more than 50,000+ families. With the help of a large team of mental health caregivers and clinicians experienced with children and adults, people with disabilities, and the NDIS, we can support you or your loved one. Friends to help you find the best support to get you included in new or ongoing plans.
Our teams work together to help you achieve your goals. We can assist you with other services depending on your needs. We can help you in your home.
Find Caring Support with Our Licensed NDIS provider in Melbourne
We are here for you. When you receive services from our recognized NDIS provider in Melbourne, you will find our dedicated team is committed to helping you access the best care possible and take advantage of your sponsorship programs.
We care about building relationships and will always work to build respect between our clients and their families. This is the only difference you can expect with Caring Hearts.
Our team will help you join programs, connect you with premium healthcare providers, and help you participate in your community. We offer a wide range of services, including support coordination, flexible in-home assistance, community outreach, assistance with daily living services, and assistance to clients looking for 
short-term accommodation (STA)
 or 
medium-term accommodation (MTA)
 supported by the NDIS.
Care is in our blood, and it's our mission to make a difference in the lives of those who need it most. We want to make real changes to improve the lives of the people we support in the best way possible.
We provide quality support services that meet the needs of people with disabilities. Rest assured that we comply with all Melbourne and Commonwealth government requirements to ensure you receive 
disability support services
 safely.
Why Should You Become an NDIS Participant?
The NDIS supports people with disabilities and emphasises independent living. It's an opportunity for people to take one step closer to their life goals. By becoming an NDIS participant, you are eligible to receive support services from registered 24x7 NDIS providers in Melbourne or any other city as it has expanded nationally.
Let's explore the framework of this system to understand better how it works and supports participants.
Q1) What are NDIS services?
Ans: NDIS Services are support services provided by NDIS providers to help people with disabilities lead more flexible and meaningful lives.
Would you like to live more freely, independently, and socially?
We have helped dozens of people with disabilities do just that through our suite of 24x7 NDIS services.
If you are looking for supported accommodation,
Short-term accommodation

gives you the space to feel safe and at home for up to 28 days.

Medium-term accommodation

provides you with temporary accommodation in a respectful and empowering environment for up to 3 months.

Support independent living

provides you with a nursing home and support staff as long as you need them.

Specialized disability

accommodation gives you more flexibility to make the most of your home.
At Caring Hearts, we understand that your needs are always changing, so we will adapt to you.
If you are already supported in one housing type but want to change, you always have the option to switch to another housing type that better suits your needs.
If you are looking for day-to-day support services, we recommend:
Community access:
will make you enjoy being outdoors and connected to our community.
Personal daily activities:
to make your life more comfortable and your work easier.
Q2) What disabilities does the NDIS cover?
ANS: For a disability covered by the NDIS, your disability or health condition must result in a permanent disability. This means your disability must be permanent instead of temporary. Your disability can be physical, intellectual, cognitive, neurological, visual, auditory, or psychosocial.
Q3) Can anything for a person with a disability be funded under the NDIS?
ANS: No, the NDIS will only fund things related to your disability. Here is a list of what is not covered by the NDIS:
Support unrelated to your disability

Support that could put you or others at risk.

Daily living expenses not related to the participant's assistance in need of

Support is beyond the scope of the NDIS and is provided through other government agency systems or community services.
Q4) What disability services are available in Australia?
ANS: There is a range of services accessible to people with disabilities in Australia. The Department of Social Services has published a list of disability services available in Australia. This list includes programmes
and services such as Australia's Disability Parking Scheme, Disability Gateway, disability employment services, family mental health support services, and more.
In addition, there are approximately 20,000 registered NDIS service providers in Australia covering a wide range of support categories such as housing, home care, healthcare, education, home support employment, and others. You can use the NDIS provider finder to find the right provider that fits your needs and goals.
Q5) What are the three main support purpose categories in the NDIS?
ANS: All services and support fall into 3 categories:
Core, Capital, and Capacity Building
Core: 
Core category support is provided to help participants perform activities in daily life.
Capital: 
Capital Portfolio Support is used as an investment in technology, equipment, modifications, or capital expenditure financing that makes life easier for participants.
Capacity Building: 
Capacity-building support is intended to help participants improve their life skills and increase their independence.
Call us at 1800 844 995 Our expert NDIS consultants are here to help.
If you are looking for a home and care support, NDIS-funded support, supported accommodation or just want to know more about NDIS services, we are here to help.